About Wendy Werthaiser
I am a visually impaired cyclist, middle-school teacher, and proud single parent of three wonderful kids. I began losing my eyesight 20 years ago from a degenerative disease called Cone-Rod Dystrophy. As my eyesight deteriorated, instead of giving up cycling, which had been a passion of mine since 2010, I began transitioning to tandem cycling. Now, with the support and love of different tandem pilots, friends, and family, my dream is to compete in Tokyo at the 2020 Paralympic Games.
As is the case for anyone with a disability, blindness can be scary and debilitating. It is constant hard work to live and flourish in a sighted world. Luckily, my parents raised me to wrestle with all kinds of obstacles and to grow stronger through them. I try to serve as a role model for my family, my friends, and particularly for my students, so they can see that in facing adversity, we learn to truly live and appreciate the lives we have.
As a visually-impaired teacher, I encounter more than the normal amount of daily challenges that come with working with adolescents. However, I do not allow my disability to get in the way of my passion and desire to be an inspiring teacher for my students. Actually, I've learned that my vision loss can be a gift to my students. On a daily basis, they see me struggle while I find the courage to ask for their help with simple daily tasks such as navigating technology, reading printed material, and simply finding a stack of misplaced papers.  They are learning what it is to have compassion and to support someone.
I try to show them that it is okay to ask for help when something is difficult, and that resiliency comes from continuing to tackle what is difficult. And that the result can be not only satisfying but life changing. My love for tandem racing, with its technical difficulty and team focus, exemplifies this idea for me.
My desire to compete in the 2020 Paralympic Games goes beyond a desire for individual glory. Rather, I want to be an inspiration for anyone who is living with a disability. I want people to see that just because we may be at a disadvantage and have to work harder, we don't have to settle for something less than our wildest dream. Making the 2020 Paralympic Cycling Team will be tough, but it will be worth it. While I've shown that I am able to compete at this level, I can't do it without financial support. For this journey, I need a racing tandem bike, coaching, and travel resources. I hope you will consider donating, so I can continue to be a positive touchstone for my students, my community, my family, and anyone else who feels the odds are against them.
---
About Jill Williams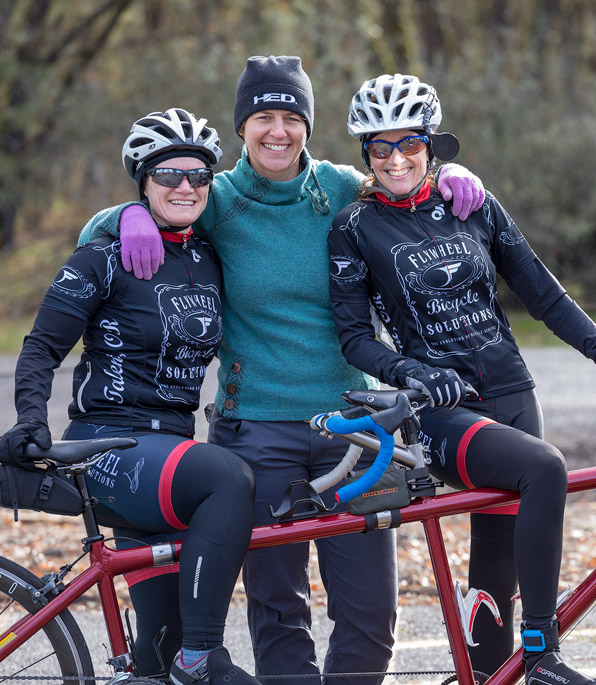 Jill Williams is Wendy's pilot, and has known Wendy since 2010 when they began riding together in a loose-knit band of female cyclists in Ashland, Oregon. Prior to that Jill grew up in the San Francisco Bay Area where she enjoyed long-distance cycling beginning in the early 90's. After attending dental hygiene school, she moved with her young family to Ashland, Oregon in 2005, where she continues to work as a dental hygienist. When not cycling around Southern Oregon's Rogue Valley, Jill participates in century rides in California and Oregon when time permits. During her free time, she provides volunteer health services for underserved populations, and helps out with her kids' schools by volunteering in the classroom, PTA, and district-wide committees. Jill is very excited to partner with Wendy in achieving the goal of competing in the 2020 Paralympics in Tokyo.
---
About Jade Wilcoxson
Jade Wilcoxson joined team BGC support crew as Wendy and Jill's coach. Jade brings a wealth of knowledge both from her background as a Doctor of Physical Therapy and retired Professional Cyclist. Jade started riding on the road after PT school to combat a diagnosis of pre-diabetes. She quickly realized she had a knack for the sport and thoroughly enjoyed the suffering that comes with pushing yourself to the limits. She secured a pro contract with Optum Pro Cycling and started racing full time in 2011 at the age of 33. Jade had the opportunity to race all over the world with both Optum and the US National Team. In 2014, when Jade felt it was time to retire and return to Physical Therapy, she had established herself as one of the top cyclists in the US with a National Road Race Title, 2 National titles on the track, as well as silver in a World Cup Team Pursuit, silver at Cyclocross Nationals and 15th at Cyclocross Worlds. Jade now lives vicariously through the excitement of Wendy and Jill as she helps them to achieve their maximum potential on the bike and pursue their cycling goals.